Car Body Repair in Manchester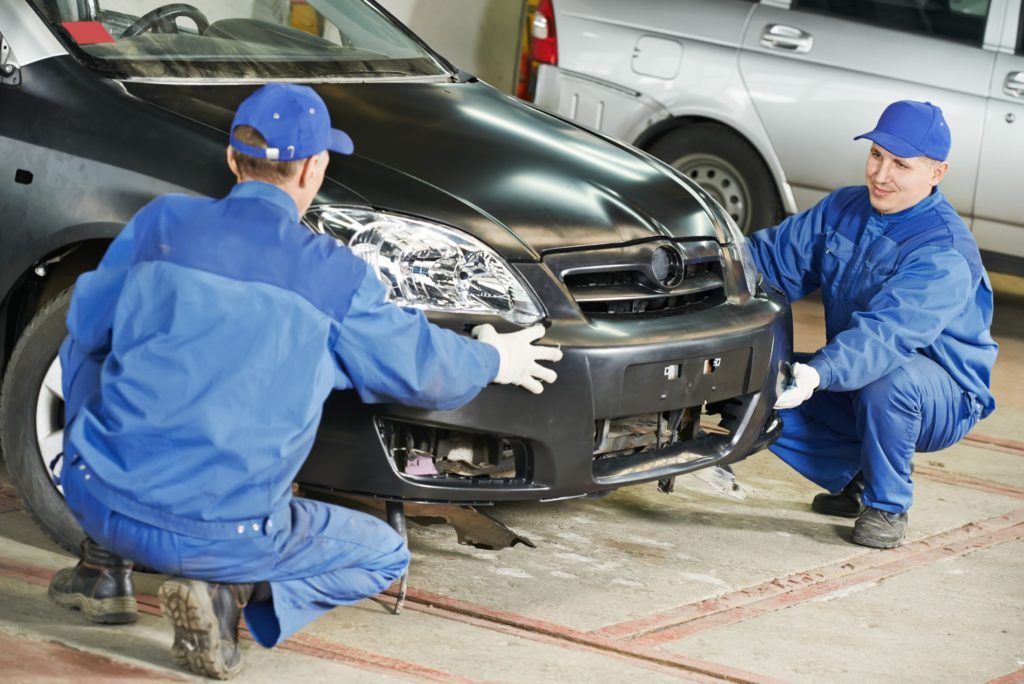 Your Ideal Choice for Car Body Repair in Manchester
It's a nightmare situation for anyone to face, damage to the bodywork or paint of your car. If it ever happens to you, all you can think of are the big potential bills, and waiting around endlessly for the problem to be fixed so you can get yourself back out on the road. Exactly what counts as "body repair"? In short, it is any physical damage caused to the car's outer structure, including things like the paintwork, bonnet, side mirrors, windscreen, headlights, tail lights, bumpers, doors, roof and more.
The need for repairs can stem from any on-road accident, minor or major, as well as accidental damage done to the car while parked, or damage from external vandalism. It can range from a simple abrasion to a full-blown scratch down the side of your car; a tiny dent to be buffed out to a significant impacting of the side panels or front end crumpled. The driving experience brings with it risks of all things great and small.
If you are in Greater Manchester and are worried about this type of thing, then you need look no further than M60 Autos. Using our 22 years' experience, we'll get your car back on track in no time, no matter how big or small the damage. Our services include car respray, scratch repair, dent removal and other auto body repair work.
From the get-go, you'll enjoy the following advantages:
We accept ALL insurance work
No job is too small for us
Free estimates on your repair/maintenance work
Advanced equipment
An expert, highly-experienced team of professionals
M60 Autos is fully insured, bonded, and also licenced by the AA. With our credential in order and our know-how at the ready, we service hundreds of clients around Manchester who have come to depend on us for speedy and effective repairs to whatever body damage has come their car's way.
Car body repair is a seriously specialized field of auto mechanics. While almost any garage can offer simple maintenance and internal repair services, not all are equipped to offer comprehensive body repair work as we are. If you're unaware of the kind of work involved in body repair, check out the rest of the blog below:
What are the most common types of car body repair?
Not every visit to the garage is for an oil and filter change. Sometimes you need more serious help, and that's where car body repair comes in. When it comes to body repair, what are the most common jobs that mechanics tend to take on? Below are some examples of the most typical body repairs that many of us face at one time or another:
1. Bumper damage
The bumper is highly exposed up at the front of your car. In almost any accident, from a low-speed fender bender to a full-blown head-on collision, the front of the car is very likely to bear a huge brunt. Depending on that impact, the bumper can be pretty straight-forward to repair, as long as you have experienced and deft hands ready to assist.
2. Scratch repair
When you think of a great big scratch on a car's metallic paintwork, you might picture a vandal with a nail, or a nasty encounter with a sidewall. The truth is that there are myriad causes that lurk behind every car scratch. Some causes are pretty obvious, like rocks and road debris getting thrown up, minor accidents, or the damage being done intentionally. But there are others you might never have thought of, like trying to open the door with keys in your hand and scraping it accidentally on the surface, or taking it through a car wash with old and used bristles that have accumulated too much dirt. You can even do it when washing your car with a dirty sponge, or waxing with a contaminated microfiber cloth.
3. Windscreen damage
The big sheet of glass at the front of your car is a tough cookie, but it's not invincible. A serious accident, falling rocks, or a large bit of debris being thrown up from the road can do serious damage, and even a small chip or crack can spell greater problems down the road. It's a common-enough sight that mechanics come to deal with.
4. Dent removal
Like scratches, a small dent can happen for a whole host of reasons. In the past, a dent also meant a respray of paint since either it or the repair work would inevitably compromise the paintwork. Technology has come a long way, however, and now a lot of dent repairs can be carried out without having to then restore the paint afterwards, saving you time and money. More serious dents still may require the use of body filler, a special material that is applied to create a clean line over the affected area.
5. Car respray
The paint of your car can be discoloured over time by exposure to UV, as well as acid rain, exposure to paint strippers or other abrasive chemicals. It can also be damaged severely by the same objects that will dent and chip your car like rocks, debris, a vandal's nail and more. What's more unique to the paintwork is how dirt and contaminants can become embedded in the paint, at first only in tiny amounts, but accumulating over time until it becomes a serious threat to its integrity. Careful cleaning and detailing can help you to avoid such a problem, but that doesn't stop repainting from being among the most common tasks that car bod repair shops have to deal with.
How can I be sure that a car body repair shop is reputable?
This is an important question and requires some diligence on the driver's part. Below-par work done by cowboy operators can end up doing far more damage than you started out with, so it's important you do your homework when choosing a repair service. There are several important things to look out for:
1. Is the vendor properly certified by a recognized automotive authority?
Groups like the AA offer the most authoritative certification to garages, and it is typically a great sign that the mechanics you are working with are approved and recommended by the highest industry experts. Any certified, licenced garage should proudly display those credentials somewhere prominent.
2. Do they have customer testimonials?
A garage that prominently displays testimonials from its happy and satisfied clients is not afraid to prove its track record. Take this as a firm sign that the garage you have selected is winning not only in its professional certification, but also in the court of public opinion.
3. Do they offer free estimates?
Another great sign is whether or not the garage will give you a full and free estimate on required repairs or maintenance before any work is carried out. This demonstrates a friendly, up-front and professional approach to their work, and a greater respect for the mechanic-client relationship.
4. Are they equipped to do the job professionally?
A reputable mechanic will remind you of the fact that they are able to use the latest tools and software available to add greater precision and efficacy to their work. Take paint respraying, for example. A good shop will have computerised colour matching, two-stage painting, dust-free vacuum sanding capability and a paint baking booth to give a really lasting finish.
M60 Autos is proud to say that it can guarantee all these requirements to its customers.
When is the right time for me to visit a car body repair garage for help?
Your car taking damage doesn't necessarily impair its ability to run normally. In the same way an iPhone will keep working with a cracked screen, your car too can keep running even with an ugly dent or a great big scratch down the side. While this is true, that doesn't make it a good idea for you to ignore car body repairs when they are only minor. Very often, it's a case of "I'll do it later" when drivers are too busy to drop off the car, or forget about it among their busy schedule. If this sounds like you, we advise that you no longer ignore any damage to your car's bodywork, regardless of seriousness.
As is the same with most troubles in a car, any small problem can quickly balloon into something much more serious, more difficult (and more expensive) to repair. If you've had a minor scrape, a bump or other incident that has done damage to your car's body, it's crucial that you get it seen to by a professional outfit as quickly as possible.
Can M60 Autos handle all the services I've read about in this blog post?
The simple answer is yes, we can. Our car body repair services include (but are not limited to)
Car respraying
Scratch repairs
Dent removal
Auto bodywork repair
You can depend on us as your one-stop shop for car body repair in Manchester. In a competitive field, we stand out thanks to our high professional standards, cutting-edge equipment, stellar track record and our great service. We're open seven days a week and we welcome you to contact us any time for a consultation and free estimate.